Office of the Dean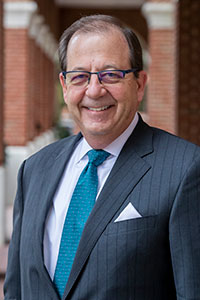 Thank you for your interest in learning more about the Luter School of Business. As a proud graduate of Luter and now as dean, I'm here to help you take the next steps in your academic career, and then help you thrive in whatever professional career path you choose.
At Luter, we combine the benefits of a liberal arts education with the know-how – the people skills and tech savvy – that you need to succeed. You'll get a head start on wherever you're going with internships at a remarkable range of businesses close to campus and through networking events and organizations at Luter. Just one example: our team won the Bloomberg Trading Challenge, a national competition that tests the investment skills of 266 teams from 81 universities.
Our classes are small and our professors are experts in their fields. They are involved in innovative business ventures, have impressive resumes, and are on the cutting edge of research. All of them are committed to your success and so is our nationwide network of Luter alumni.
This is my first year as dean after a long career as CEO of a top 100 CPA firm. So, if you're considering a Luter education, let's get started together. Send me a note, call my office or stop by for a chat.
Alan Witt
Dean, Joseph W. Luter, III School of Business
alan.witt@cnu.edu